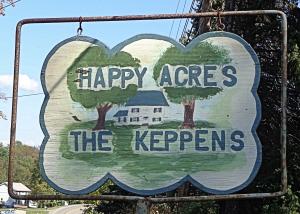 September 2014

We've all heard the saying that time flies when you're having a good time. That saying is partially right. But sometimes time flies even when you're not having a good time. Grieving is not having a good time.

My mother said that the older you get the faster time flies. My mother's words were totally right. Imagine that..admitting that your mother was 100% right. Big smile on my face right now.

We thought the winter would never end but spring came and went and then in an instant it was summer. We left Ohio in May, just as spring rushed in, full speed ahead. Happy Acres was awash with apple blossoms, lilacs and violets. We left in the midst of spring and came home to our southern summer.

But now it's over. Where did this summer go?

The commercial end of summer was Labor Day Week End. The meteorological end of summer is still two weeks away. But we don't need a calendar or a Labor Day sales paper to know that autumn is visibly right around the corner. All we have to do is look around us and notice what is happening in nature.

Dog days are over. We are still having oppressive heat during the day and the nights are humid. But the deciduous trees are already showing signs of color. A few Pelicans have come back to the Bay, cruising for food, perching on old pier posts to dry out and survey the meal situation. They will spend the winter in the Bay, bayous and marshes and will once again move out front to the sandy shore at the beach next spring. The dragonflies swarmed in August then virtually disappeared. I even saw two love bugs on the first day of September, one of the two months of the year that they swarm. These are all signs of the coming colder weather that nature shows us.

Both of my parents had a love of nature. They both gardened. They were good gardeners. They worked hard at it but didn't view their work as a chore. What I saw was two people working for the pleasure and beauty of gardening. We enjoyed delicious food grown in the vegetable garden and on the fruit trees and canned, frozen and cooked at home. There was greenery around the property even in the dead of winter from the purposefully planted Blue Spruce and spring through fall found Happy Acres awash with blooms.

I used to be a gardener. I haven't done that in many years, though. When we rebuilt and landscaped our property after Hurricane Katrina, we planted tree and shrub beds mulched with river rock. The only flowers growing on the property were crinum lilies that originally came from my mother-in-law's property and had survived the storm. No organically mulched flower beds like the ones I had planted and tended everywhere we've lived. No vegetables or fruit trees.

We have lived in different areas of the country over the years and we had collected flowers and shrubs from all of these areas. We would swap plants with my parents whenever we would visit. When I went back to Ohio in June to attend the auction of my mother's property, we dug up a few day lilies and brought them back to Mississippi. They were daylilies that I had previously brought from our property in Virginia and they had thrived under my mother's green thumb. When we dug them up the bloom stalks had just emerged. Re-planting didn't take place for many days and the plants were showing signs of extreme stress. But those blooms insisted on living even when the foliage dried up and died. And they bloomed. New foliage grew and new blooms opened.

What a blessing God bestowed on me through my parents love of nature and expertise in gardening. My outdoor plants have received better care this summer and my spirit is being healed by caring for them. I am not looking at nature through the lens of my camera as much as I am soaking it all into my inner being. There will be time to take photographs after I take care of more pressing needs. And even if there isn't time later to snap up photographs then I did what was most important these past few months.

Fall is right around the corner and it will provide different opportunities than these past three seasons of this year for both my personal and professional life.

Let's hope I don't go crazy again!