December 7th, 2022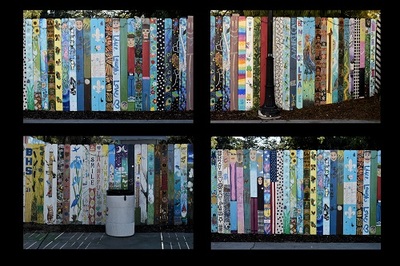 There is a community garden on the Mississippi Gulf Coast affectionately called The Nourishing Place. It is Ruth's Roots in Bay St. Louis, Mississippi.

Before Hurricane Katrina the land where this garden is located was a business called The Cakery, run by baker Ruth Thompson. Katrina destroyed the business and after Mrs. Thompson passed away Jim Thompson donated the empty lot for a community garden. It was named in her honor.

A non-profit was formed and Ruth's Roots was developed as a "nourishing place" for residents and visitors alike.

Volunteers have spent countless hours building, erecting, planting, feeding, watering and taking care of this special place.

We visited the garden on a recent visit to our former home town and were delighted by the many attractions.

When approaching Ruth's Roots the first thing you notice are the wooden fence boards. Each board is painted with a different design. Residents were asked to adopt and then paint an individual board in their own style. It made an extremely colorful entrance.

Once inside you can walk along the "yellow brick road" (painted on the old concrete slab) that leads to a circular area featuring a painted portrait of Mrs. Ruth surrounded by butterflies. Or you can choose to mosey along the edges of the garden at your leisure.

When you first enter the garden you are presented with three libraries. There are two lending libraries, one provides books for adults and another makes sure that there is reading material for children. A Seed Library provides flower and vegetable seeds for residents to plant in their own gardens.

The interior of the garden, like the fencing out front, is a feast of color. Raised beds on either side of the yellow brick road contain flowers and vegetables. Artwork, both two and three dimensional pieces, can be found throughout Ruth's Roots.

A chicken coup makes egg donations to a local non-profit café possible. A butterfly house provides a safe haven for monarch butterfly caterpillars and chrysalis. There is a Buddha statue watching over a peaceful koi pond and a chess and checkers table made from a stone slab.

A large wooden deck under the oak trees provides a cool, shady spot to rest or visit.

I'm sure we missed seeing all that the garden has to offer during our short visit and the seasonal displays will no doubt be completely different when we return. That's the beauty of any garden - seasonal changes that accompany weather patterns.

I took quite a few photographs as we enjoyed the sounds of the waterfall at the koi pond and the various birds singing. Many of those pictures are being processed and uploaded on my web site this month if you would like to experience a virtual visit to the garden. They will be found in the Mississippi Collection.

Ruth's Roots, a community garden is first of all a delight for the residents of Bay St. Louis and secondly a must stop for any tourist to that artsy beach town.

Comments are always welcome and encouraged!